Hello! I'm Alexandra
It was only a few years ago that I was trying to run my business but was completely broke yet was scared of making sales and getting visibility for my services. I felt overwhelmed doing all these different things to grow my business and was still stuck not earning enough income. On top of all of this, I had a tremendous fear of speaking and putting myself out there and tried to avoid it at all costs. Can you relate?
Then, with the proper coaching, training, and resources, I turned my business around and changed my relationship with sales and visibility. I unleashed my inner voice, to step into the spotlight, love sharing my services with others, and pushed past the blocks holding me back to stand out online and in my industry.
Now I support coaches, influencers, speakers, public figures, and other passionate, purpose-driven entrepreneurs to get clear about your mission and calling, unleash your authentic inner voice, and share your message with the world to attract clients, build your audience and make a bigger impact.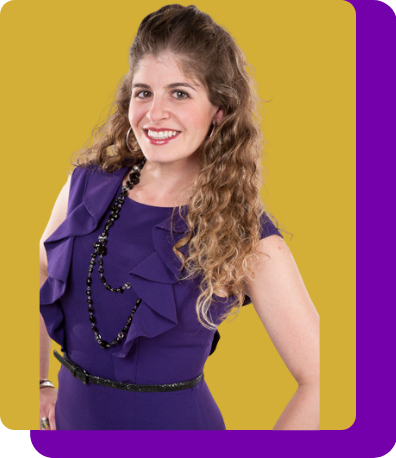 Alexandra's Biography
Alexandra Figueredo has been supporting passionate, purpose-driven entrepreneurs, coaches, influencers, speakers and public figures for over a decade. Her mission is to fully express herself and inspire you to fully express yourself, and her goal is to help you get clear about your mission and calling, unleash your authentic inner voice, and share your message with the world to attract clients, build your audience and make a bigger impact. As an internationally-renowned author, speaker, trainer and dance performer, she inspires and empowers her audience to step up to their highest potential, overcome obstacles getting in the way of being your authentic self and sharing your mission and message with the world.
Her Amazon bestselling book Sculpt Your Life From Sketch to Masterpiece is a practical and inspirational guide to lead readers to discover their mission, start their business, increase their productivity and step into their Masterpiece Life. She is also co-author of a bestselling book Conversations That Make A Difference: Shift Your Beliefs To Get What You Want, which has among other authors, Sharon Lechter and Dame D.C. Cordova. She's been featured by various media outlets, including New York Times, Business Insider, ABC News, Natural Awakenings, CareerBuilder, and The Grindstone, to name a few. She is also a writer, columnist, and contributor for numerous magazines and publications.
Passionate about supporting women through social impact, Figueredo is founder and executive director of Latina Founders, a network that aims to empower, educate and support Latinas, women, and minority business owners to help level the playing field in business. She spent several years analyzing the needs of arts professionals as co-founder of Artista Mundo, the first fully bilingual global platform and community for artists that served as a resource for thousands of artists and creative professionals around the world. Prior to that, she started her professional career in business and lending for nearly a decade, most recently as Assistant Vice President and a lending officer at a wealth management bank headquartered in Miami. During her years in the corporate world, she realized her legacy was to give back to others, which drove her to work in philanthropic measures supporting arts education, therapeutic and promotional services for underserved individuals and communities.
Alexandra completed her master's in Global Strategic Communications at Florida International University and obtained her Bachelors in Business from the University of Florida. She is a Certified Professional Coach, a "Happy For No Reason" Certified Trainer from Marci Shimoff's signature program, and obtained a professional certification in Happiness at Work, Mindfulness/Resilience at Work, and Emotional Intelligence at Work from Berkeley's Greater Good Science Center. She also leads an online study group for A Course In Miracles with students from all over the world.
Alexandra has been involved in singing, musical theater, and dance performances her whole life, and has performed in numerous choral and musical shows through the years. An avid traveler and lover of different cultures, she's visited 5 continents and was blessed with the opportunity to study abroad numerous times as a student.
Do you need more support? Sign Up for Your Complimentary Brand & Visibility Coaching Session
Sign Up for Your Complimentary Brand & Visibility Coaching Session